{event.name}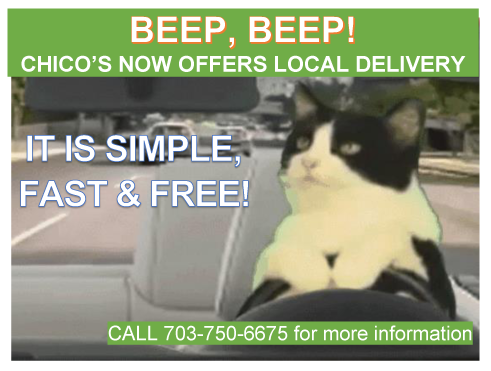 BEEP, BEEP! Chico's Now Offers Local Delivery!
Beep, Beep… Chico's is on his way!
Local Delivery is NOW AVAILABLE in the Barcroft Area. Our delivery radius currently includes parts of Falls Church, Annandale, Alexandria, Shirlington, Seven Corners & Arlington! Please call the store to confirm that we will deliver to your zip code. We may be open to expanding our delivery radius in the near future. Please do not hesitated to let us know if you have a special request, we will do our best to accommodate you.
We deliver between 12pm and 5pm, Monday through Saturday. Orders placed before 11 am will deliver same-day. Guaranteed! Otherwise, orders will be delivered after hours or on the following delivery day, between 12-5 pm. If you need a same-day delivery, don't you worry please call anyway, we will work something out,
Whether you're pressed for time during the busy work week or don't have a car to take home heavy bags from the store. Well, we want you to know that we are here for you. The same trustable neighborhood local pet store offering this convenient and reliable "Beep, Beep" delivery services that will make sure that your furry friend is happy, healthy, and well-fed.
We also want to take this opportunity and thank you for all your support. We feel it is time for us to offer this simple, dependable, convenient and trouble-free way to get your Pet's favorite food and treats to your door.
The minimum order for delivery is $35.And your Phone Purchases will also be applied to your reward program.
You do not need to be present to receive your order, but we request a clear drop off area that you find safe and secure. Chico's Natural Pet Market is not responsible for any damaged or stolen goods as a result of an insecure drop off area. Need your food placed in a certain spot? Would you like us to call when we get there? Not a problem just let us know while placing your order. If your order contains frozen food or other frozen products, we advise leaving a cooler for us to set your food in so that it stays safely cold. Please consider leaving us specific instructions to ensure that your products are received in good condition. If there are no specific instructions, we will leave your delivery outside your front door, or in another visible place.
If you are interested in delivery on products that we don't stock in our stores, or if you cannot find a product that we should have in stock, please talk to us, and we can place an special order.
Cal 703-750-6675 to make your order today! And receive a Valentine's Gift!
Special Offers
Coupons and other special offers. Click the Button below to view all of our offers!
View all Offers
We are constantly adding new specials to our site. Be sure to check back often!
Sign up for Email Updates
or